President Evans praises, students, faculty, staff for persistence through COVID-19 pandemic
Lamar University President Kenneth Evans held the annual fall convocation, Aug. 11, in the Montagne Center. Evans welcomed faculty and staff members back to campus after its closure in March due to the ongoing coronavirus pandemic.
The event, traditionally held only in person, was also livestreamed on the Lamar University website to promote social distancing. Those attending in person were required to wear masks.
Brenda Nichols, senior provost and vice president of academic affairs, introduced Evans.
"Who would have thought the whole world would shift so completely and that we would now try to be figuring out how to change to online, hybrid, remote classes?" Nichols said. "The campus classrooms look different. We have socially distanced everything that we possibly could."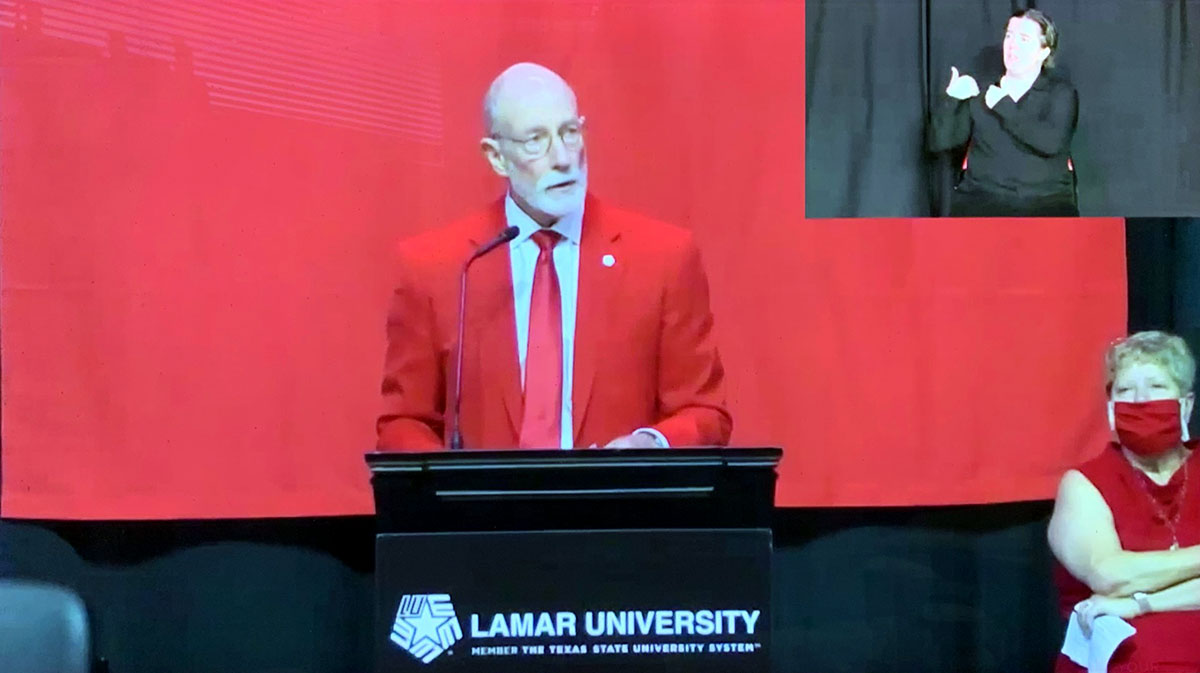 Nichols highlighted newly implemented guidelines, such as signs posted around campus urging people to wash their hands and arrows on the floors in buildings marking safe distances for people to stand, as preparation for Lamar to open for the upcoming semester.
President Evans began his speech by congratulating students, faculty and staff members for adjusting to "the new normal."
"We, along with the rest of the world, continue to address pandemic and social justice concerns, not to mention the other challenges we encountered this past year," he said. "We had a convocation last year, and shortly thereafter (tropical storm) Imelda hit. Then of course we had a plant explosion, and now we're dealing with the challenges of the pandemic — and at the same time embracing our responsibility and providing leadership and advancing racial equality."
Evans said no other institution in the United States has withstood what Lamar has.
"I'm incredibly proud of this institution, and I'm proud of all the people who are part of it, and what you've been able to overcome," he said.
LU is ahead of other institutions in the country, Evans said, by converting many programs, such as music and art and labs, which took creativity and innovation to respond to the pandemic.
Faculty members who were not used to working online worked extremely hard to convert their classes and support their students, Evans said.
"Our faculty on this campus reached out to students and helped them in that transition," he said. "Our faculty ensured the continuity of coursework learning."
Evans praised faculty members for making sure students had the necessary equipment to complete the spring semester — stories which he said he has heard firsthand from students.
The IT department was instrumental to the university's success after its closure, Evans said.
"If it hadn't been for them, we would not have been able to make the transition online and do all the things we were able to do last semester," he said. "They helped faculty make the transition — ensuring that they have the right equipment and right assistance to do their jobs. I thank them from the bottom of my heart for what they've done."
Evans also spotlighted the facilities and maintenance department for their extensive cleaning efforts on campus.
"This group of amazing, devoted employees constantly cleaned and disinfected every space and building on this campus," he said. "They also took advantage of the empty campus and filled potholes and reworked landscapes, updated air conditioning units, cleaned and polished floors — I could go on and on.
"These are the same people who are preparing the campus for us to safely return shortly, and practice social distancing."
Evans highlighted housing and residence life for remaining open and conducting virtual tours for prospective students. He said 2,300 students are expected to stay in the dorms for the upcoming semester.
In addition to dealing with issues surrounding the pandemic, Evans said Lamar was also confronted with addressing the reality and implications of our society's embedded evidence of social injustice.
"The death of George Floyd, an unspeakable tragedy, ignited torturous events across our nation," he said. "During this time, Lamar University, I'm proud to say, has begun a process of discovery and preparation for social justice focus, vision and action plan."
Evans said Lamar has engaged a diversity task force to lay out a vision and blueprint for the university going forward.
"We're not only surviving during this most challenging time, but we are thriving," he said. "Collectively, through open communication and innovation, hard work, true caring (and) compassionate commitment to the education of our students, we will prevail."
For more information on Lamar University's plan to return to campus, visit www.lamar.edu/return.
Olivia Malick, UP editor